Monorail Cranes
When materials are too heavy or bulky to move through a facility with floor mounted conveyors, light trucks, or workstation cranes – one of the most effective methods for material handling over a sustained distance is often a monorail system. Monorail systems use continuous run of overhead track with electric, pneumatic or hand-powered trollies. Most utilise one of two track styles– an enclosed track or a patented track system.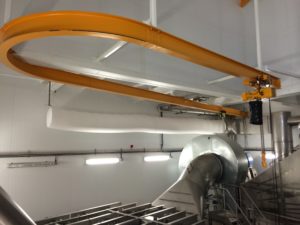 If you frequently handle materials that are too heavy or bulky to move with lift trucks or workstation cranes – a monorail system could be the solution. Monorail cranes offer exceptional power and load control while maximising vertical space in your facility. They are frequently used for heavy-duty applications in nearly every industry, with applications ranging from automotive manufacturing to power generation, and more.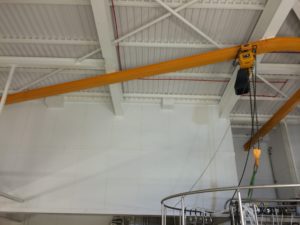 Benefits of a Monorail Crane system
Flexible – Monorail crane systems can be used in virtually any facility. They also make modification and expansion very easy. Whether you need to make a bigger crane system or expand your production floor, a monorail crane system can be quickly adapted to the changing needs of your business and the space available.
Fast – A monorail crane, by design, takes loads "up and over" the rest of your production floor, providing a more direct path from point A to point B and increasing efficiency in your facility.
Controlled – Through a combination of automated systems and pushbutton pendants, your monorail crane ensures that any operator can maintain constant visibility and fine-control while remaining safely out of harm's way.
Customisation – At Ballinphellic Engineering Co., is our speciality. With monorail cranes, this is no different. Do you need to move product from one section of your plant to another (or even to a different building)? No problem. From curves and slopes to integration with existing systems and application specific features, the many customisation options available can make a monorail crane system a boon for any production line.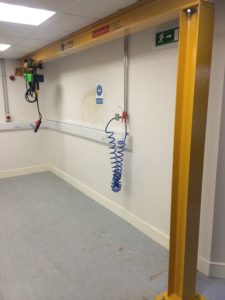 Types Of Monorail Cranes
Ceiling mounted monorail cranes
Ceiling mounted monorail cranes are a first-choice for businesses in many industries for the obvious benefit that they require zero floor space. Ceiling mounted cranes can be directly mounted to your existing ceiling beams, or another support structure. They may also take advantage of suspension hangars and sway bracing for added stability. For ceiling mounted monorails that must hang down to allow space for lights, vents, pipes, and other obstructions, Ballinphellic Engineering Co. will provide custom support hangers and support structures to situate the monorail where it will be most effective.
Freestanding monorail cranes
Freestanding monorail cranes provide a permanent solution that provides fast, heavy-duty material handling over long spans when there are not any available mounting structures. Configurations for freestanding monorail crane systems include cantilevered systems, T-frame systems, and H-frame systems – with customised systems always an option.