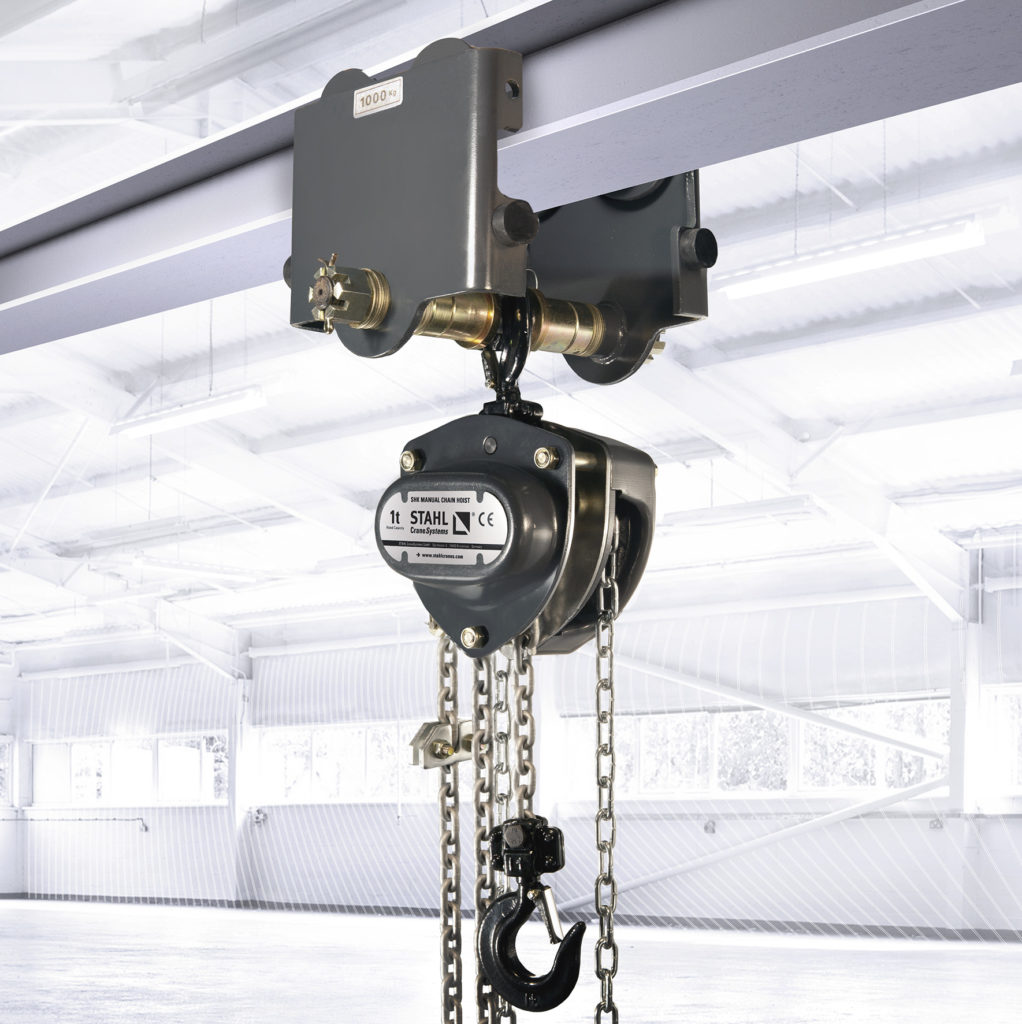 The SHK and SHK+ manual chain hoist
The SHK manual chain hoist features a wide spectrum
of applications, independent of a power supply.
The robust, compact construction allows optimum use
of the available space. Thanks to its low deadweight
it is ideally suited for flexible use or rapid changes of
location. Simple, ergonomic manual operation combined
with a high level of operating safety distinguish
this manual chain hoist.
The high-quality SHK manual chain hoist from STAHL
CraneSystems is designed for the lifting capacity
range from 250 kg to 5,000 kg. It can be used as a
stationary hoist with suspension hook or eye or beam
clamps, or with various trolleys. An extremely
short headroom is achieved with rigid suspension in
combination with the SIHK trolley.
The SHK+ manual chain hoist from STAHL CraneSystems,
almost identical in construction, is available for the
upper lifting capacity range from 500 kg to 20,000 kg.
Thanks to its special surface coating it is also suitable
for rugged offshore use.
The Facts
Robust manual chain hoist for the
lifting capacity range from 250 kg
to 20,000 kg
Steel gear housing and handwheel
cover
Powder coated in RAL 7021,
dry film thickness 70 μm on SHK,
dry film thickness 180 μm on
SHK+ (offshore quality)
Zinc-coated high-tensile load chain
of alloyed steel
Stainless steel chain as an option
Powerful and smooth-running
thanks to milled chain sprocket
and gearwheels
SHK+ chain sprocket with additional
ball bearing
Slipping clutch as overload device
on SHK+
Weston-style brake, double pawls,
two friction discs, four braking
surfaces