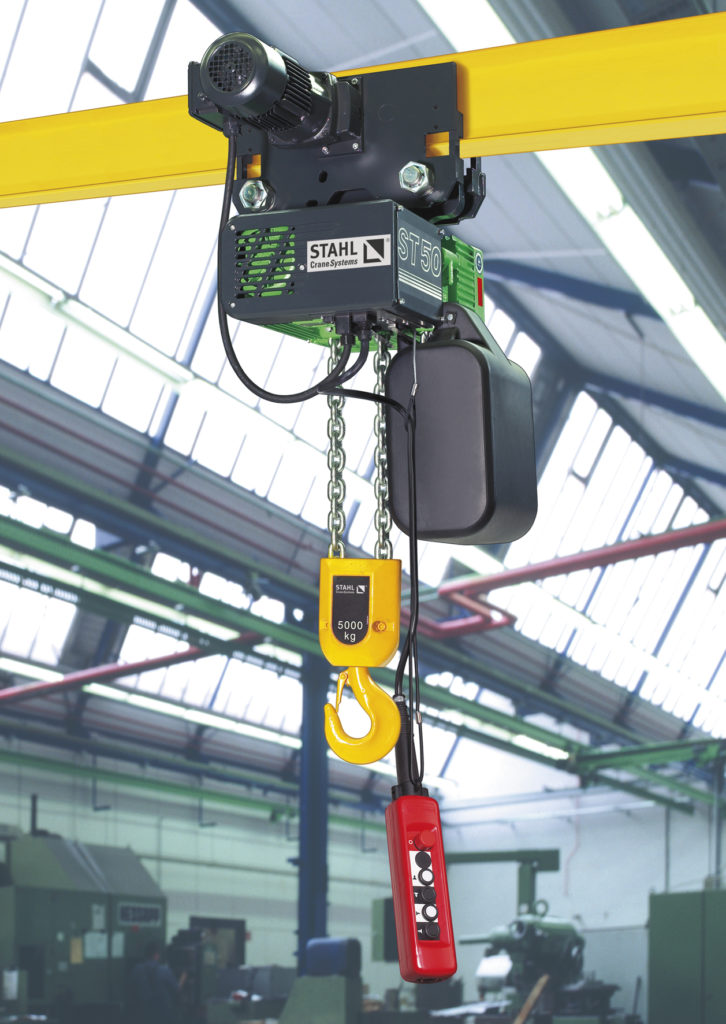 STAHL ST 05 – ST 50 chain hoists
Chain hoists from STAHL CraneSystems are compact, convincing in their particularly short approach dimensions and their robust and low-maintenance construction. To this day, the successful ST chain hoist is the industry's benchmark.
No other manufacturer offers such a large complete range of chain hoists. With safe working loads between 63 and 6,300 kg, explosion-protected versions, modular design and countless off-standard solutions the chain hoists are equipped for the most varied applications.
The ST series from STAHL CraneSystems ranks among the most comprehensive chain hoist programmes. In use in thousands of applications for many decades, modernised and optimised over and over again, the ST chain hoist is a true classic. Powerful, reliable and undemanding as far as maintenance and power consumption are concerned, the ST series comes in 13 S.W.L. ranges, from 125 kg to 6,300 kg. The chain hoists can be used as stationary hoists with suspension hook or eye, with rigid mounting, or with a push or electric trolley, and are especially suitable for rugged applications in industry.
Proven thousands of times
All precision parts made in Germany
Robust, reliable, undemanding
Very high FEM classification
S.W.L. from 125 to 6,300 kg
Two lifting and travel speeds as standard
Modular system
The Facts
Extensive chain hoist range for lifting capacities from 125 kg to 6,300 kg
Patented suspension directly on chain guide
Equipped with two hoisting speeds as standard
Extremely short and compact construction ensures that space can be utilised to the maximum
High standard classification in accordance with FEM
Modern Kanban production, available fast
Available as an option in explosionprotected design complying with ATEX and IECEx