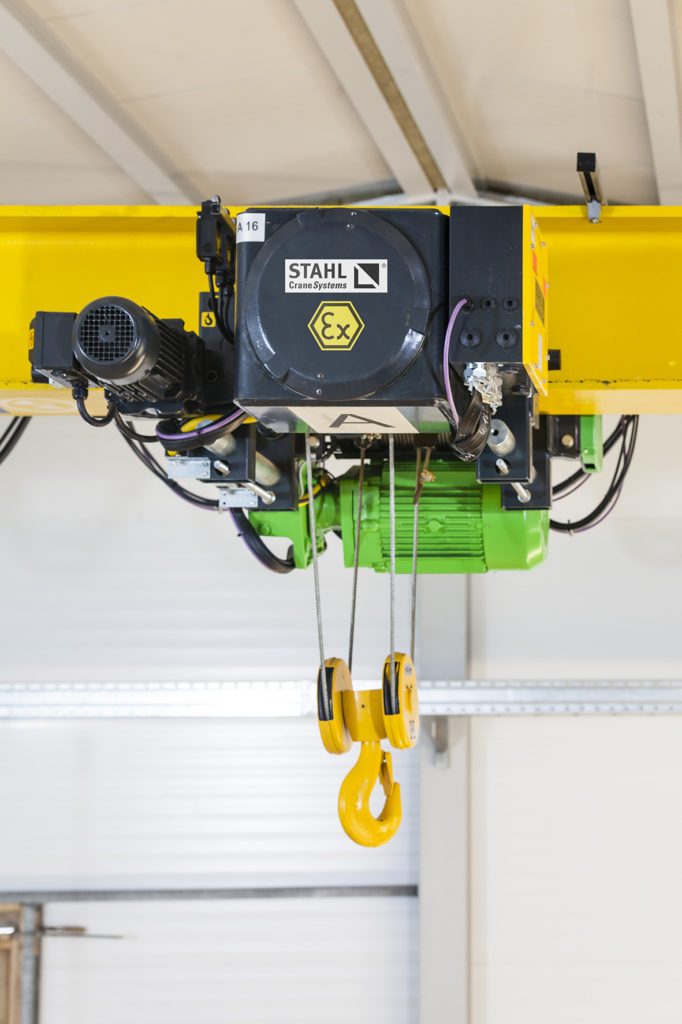 STAHL Explosion-protected wire rope hoists
Explosion-protected wire rope hoists and STAHL CraneSystems belong together: decades of experience and continuous development have made the company with its programme of explosionprotected wire rope hoists the world's leading manufacturer. Thanks to sophisticated methods of calculation, innovative ideas for improvement from our development team and rigorous orientation on quality, the SHex/ Zone 1 wire rope hoists constitute a maximum of quality and reliability world-wide. With regard to explosion protection, the hoists are designed in compliance with directive 2014/ 34/EU (ATEX), equipment group II, category 2G.
The SHex/Zone 1 range of wire rope hoists is a modular system for working loads from 1,000 to 25,000 kg.Sturdy design, compact construction, maintenance friendliness and reliability in combination with the economic advantages of series production make STAHL CraneSystems' wire rope hoists efficient and productive lifting equipment
The particularly low-maintenance SHex/Zone 1 product programme is the result of many years of experience, for example all bearings have lifetime lubrication; filled with grease or running in an oil bath.
The sliding rotor brake motors are 3-phase AC squirrel-cage induction motors. The hoist motors are 2/12-pole, the travel motors 2/8-pole. They are designed for intensive duty. The brake is fully encapsulated. Dirt cannot enter, nor can brake dust escape to the outside. Extremely long service life of the asbestos-free brake is ensured. In addition, the brake is extremely maintenance-friendly: the necessity for adjustment is indicated.
The maintenance-free hoist gear displays the ultra-modern technology: completely enclosed housing with maximum accuracy and stability, gearing with high degree of flank hardness optimised after hardening by honing (high service life, low noise) and lifetime oil lubrication.
The rope drive and rope drum are designed for high safety and long service life. Fine machining of the drum grooves minimises wear on the rope, the return sheaves are resistant to wear.
The highly flexible special bright metal or galvanised wire rope has a long service life.
The rope safety factor is ≥ 5.0 as standard (exception: SH 4016-.., SH 5032-..: in some cases < 5.0). Extremely robust bottom hook block with low headroom in spite of the generously dimensioned hook.
The extremely wear-resistant rope guide in spheroidal graphite cast iron has high tensile strength and has no temperature limitation.