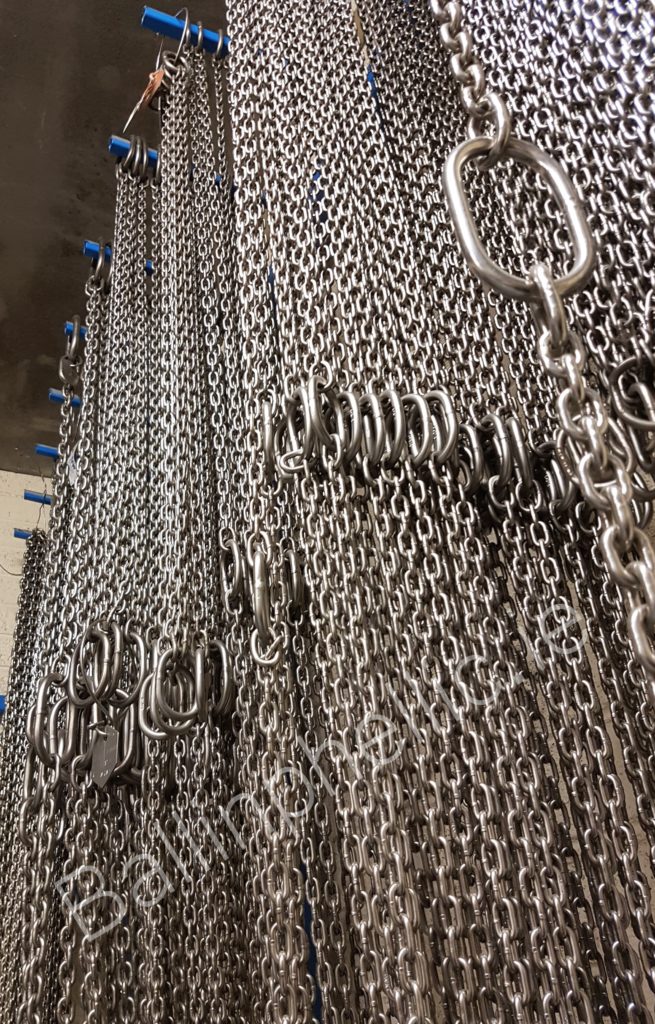 Featured Product
Pump Lifting Chain – Stainless Steel
Pump lifting chain is manufactured by KETTEN WALDER in Germany using the highest quality of stainless steel to achieve market leader quality products..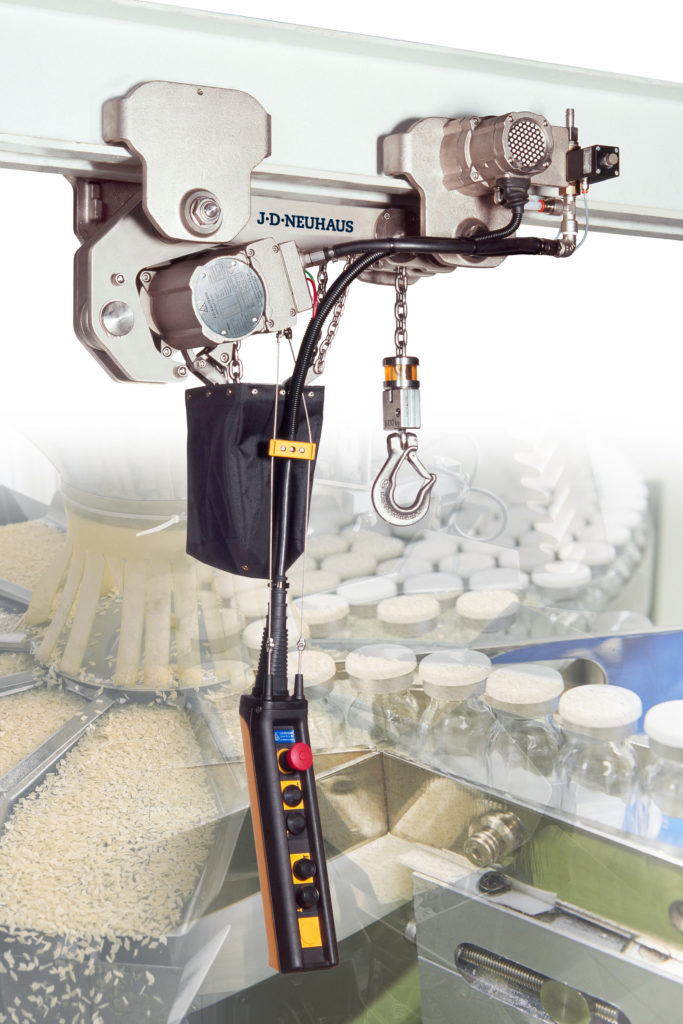 Featured Product
JDN nickel-plated big bag handling air hoist
JDN's nickel-plated big bag handling air hoist is part of a range of products designed for applications that need to process powdered, granulated or other free-flowing materials which need regular, high volume top-ups in order to maintain the high levels of production. These hoists are suitable for handling food products such as salt, sugar, flour and starch, as well as chemical and pharmaceutical products. All these air operated JDN products provide explosion protection features for safe operation when being used in potentially explosive work environments. Big bag handling air hoists are available at carrying capacities of 1100 and 2200kg (with 6 bar air pressure). They can be supplied in two configurations of single or twin lift/load hooks. The single hook unit is designed for operation with a standard cruciform lifting beam. The large distance between the hook and the chain box advantageously eliminates potential collisions between the load and the…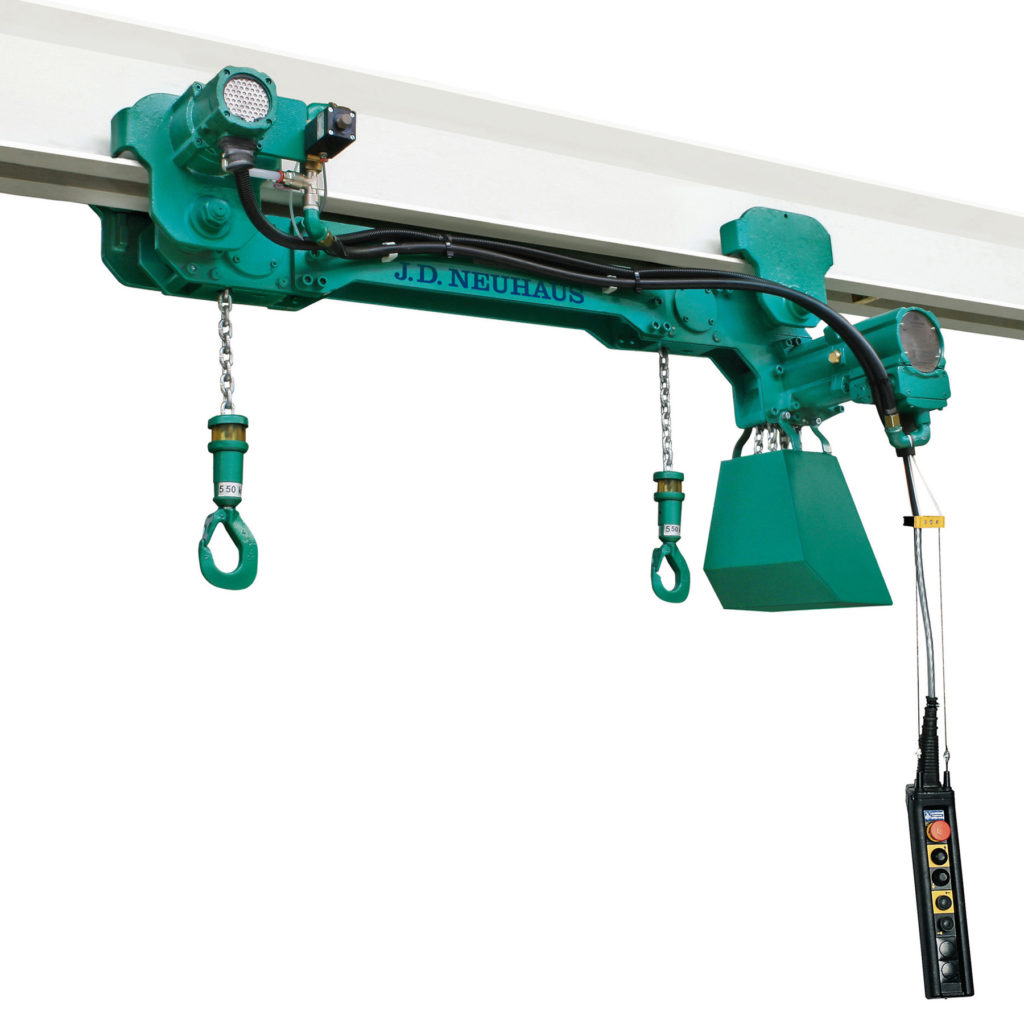 Featured Product
JDN Big Bag Handling Air Hoists
For big bag handling applications, J.D. Neuhaus offers innovative system solutions and thus meets the special requirements of this range of use. JDN big bag handling air hoists are available at carrying capacities of 1100 kg and 2200 kg with an air pressure of 6 bar. Designs with one or two load hooks With one load hook for cross beams. The large distance between the hook and the chain box is particularly advantageous. This guarantees that there is no danger of collision between the load and the chain box. With two load hooks for more complex multi-point cross beams or simple rod cross beams with two means of suspension. Standard Features Particularly suited for use as big bag handling hoists and for the movement of all kinds of bulky loads due to the extreme low construction height. Compact, modern design. Usable as synchronised hoist in two-hook design. Very economical and…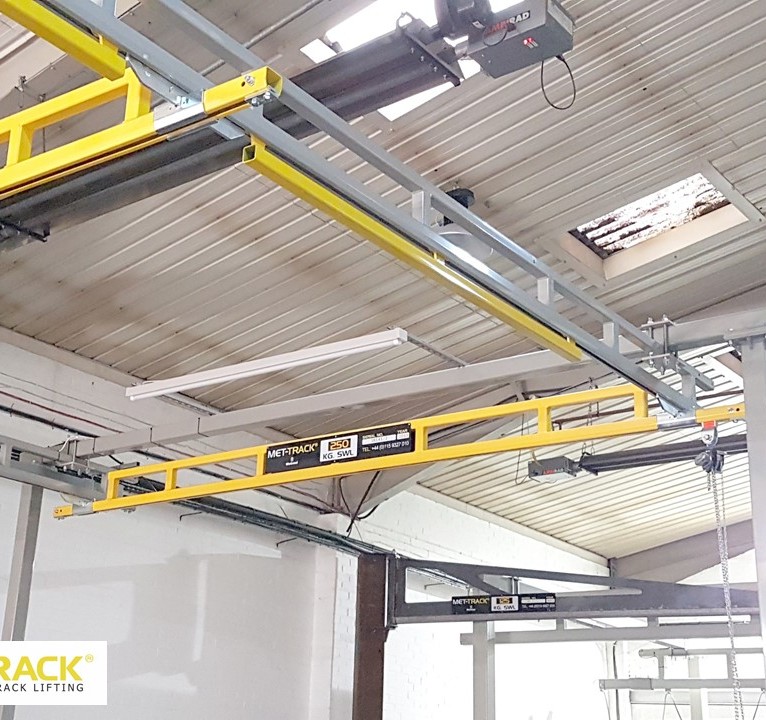 Featured Product
Metreel: MET-TRACK – Workstation Cranes
Metreel: MET-TRACK – Workstation Cranes enable you to achieve effortless and reliable area-serving overhead handling for a wide variety of applications. Each system is configured with the operator in mind and includes the principle feature of ease of movement, designed to reduce fatigue and ensure accurate load positioning. Quality materials and construction ensure operational reliability and safety and facilitate long life combined with minimum maintenance. Special Designed Solutions Metreel: MET-TRACK – As a supplier of major materials handling projects worldwide, we are well experienced in dealing with turnkey installations where standard cranes are not considered ideal. We believe that providing the customer with all the required systems configured exactly to their needs is essential to ensure the installed project is 'fit for purpose'. If you have a project and would like to take advantage of our experience then simply contact our sales team for further information. • Loads up to 2000 kg…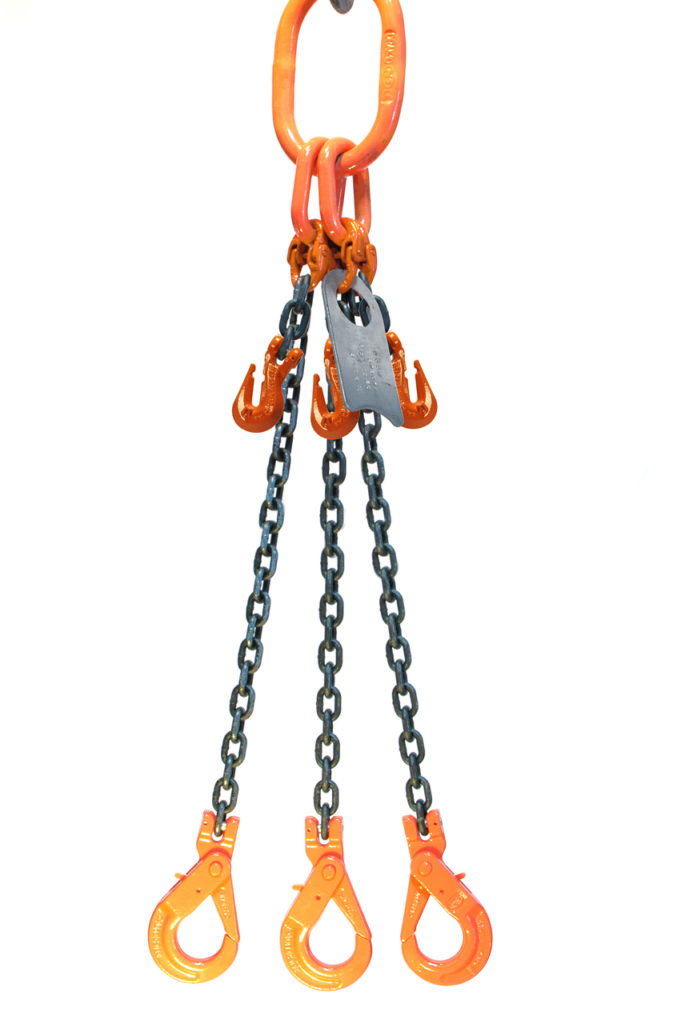 Featured Product
Chain sling
Our selection of chain lifting slings come in single leg, double leg, triple leg, and quadruple leg options. The number of legs will determine the weight limits it can hold, as well as the angles in which the holds are determined. We offer chain sling types in a range of sizes and up to any length needed. Often we will create custom slings that might not be featured here on our site for clients. Our slings are available in 80 and 100 grade chain and have fittings in both grades as well. All the chain slings we offer come with a tag as per OSHA. Chain lifting slings are the best choice for applications subjected to high temperatures or under rugged conditions that can easily damage other sling types. These types of slings are flexible, durable, and long-lasting. The sling is easily collapsible for easy storage and can securely adhere…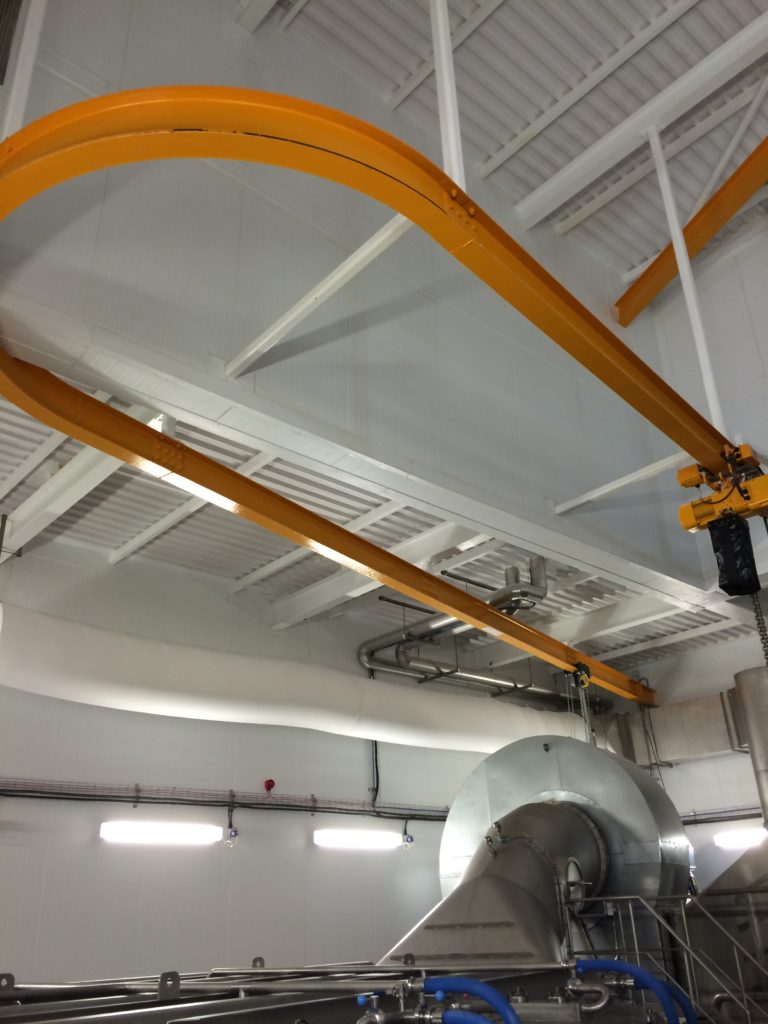 Featured Product
Monorail Cranes
When materials are too heavy or bulky to move through a facility with floor mounted conveyors, light trucks, or workstation cranes – one of the most effective methods for material handling over a sustained distance is often a monorail system. Monorail systems use continuous run of overhead track with electric, pneumatic or hand-powered trollies. Most utilise one of two track styles– an enclosed track or a patented track system. If you frequently handle materials that are too heavy or bulky to move with lift trucks or workstation cranes – a monorail system could be the solution. Monorail cranes offer exceptional power and load control while maximising vertical space in your facility. They are frequently used for heavy-duty applications in nearly every industry, with applications ranging from automotive manufacturing to power generation, and more. Benefits of a Monorail Crane system Flexible – Monorail crane systems can be used in virtually any…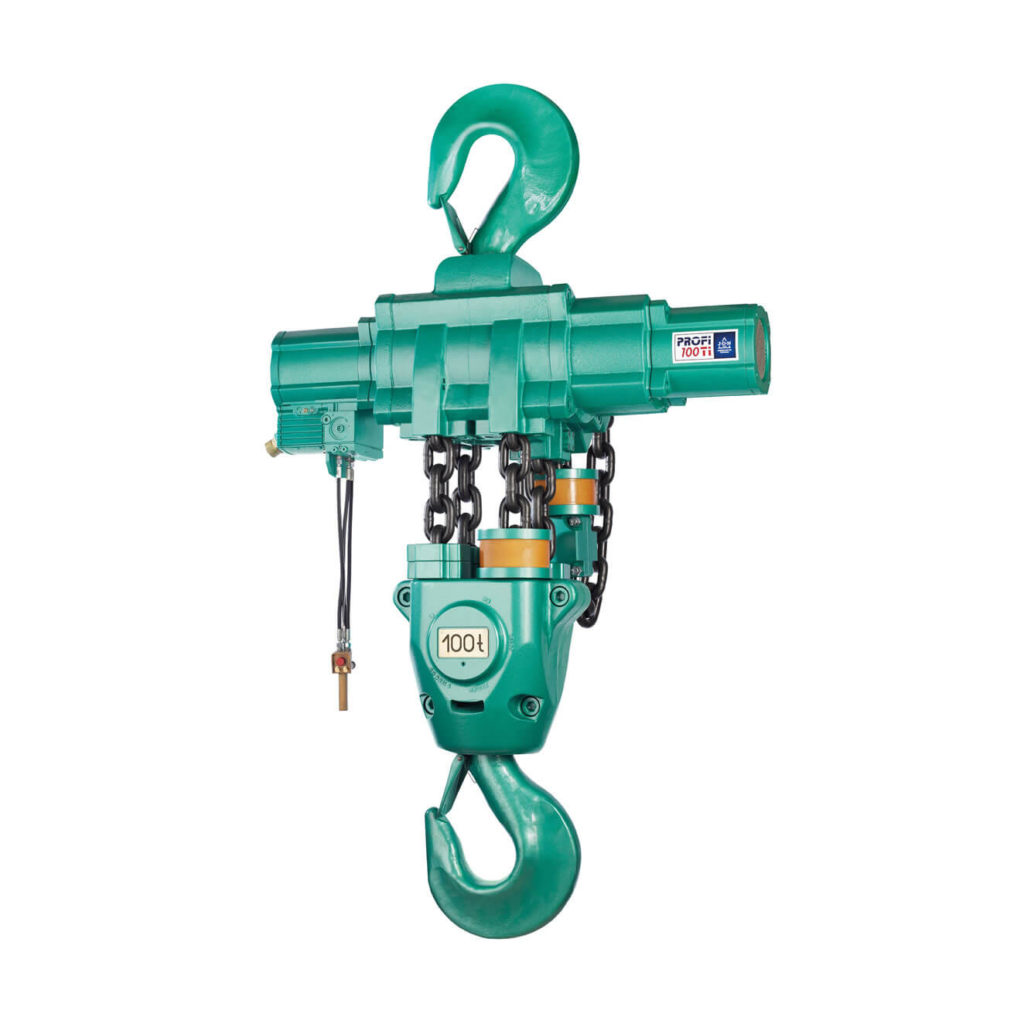 Featured Product
JDN AIR HOISTS PROFI
Carrying capacities: 250 kg up to 100 t Air pressure: 4 bar or 6 bar The PROFI series for heavy-duty industrial use is available with different controls according to requirements. Explosion Protection Classification: Ex II 2 GD IIA T4(X) / II 3 GD IIB T4(X) Higher Classifications on request. Standard Features suitable for application in hazardous areas (Explosion protection) sensitive infinitely variable speed control for the precise positioning of loads easy operation suitable for lube-free operation frequent switching and extended duty cycles low maintenance low headroom, lightweight sound absorption insensitive to dust, humidity and temperatures ranging from -20°C up to +70°C from 1 t upwards with overload protection (EC-version) Technical Details fail-safe starting conditions, low maintenance vane motor chain sprocket in the mid section runs in dust proof maintenance free ball bearings planetary gear in long life grease lubrication, all teeth made of tempered or hardened high grade steel chain…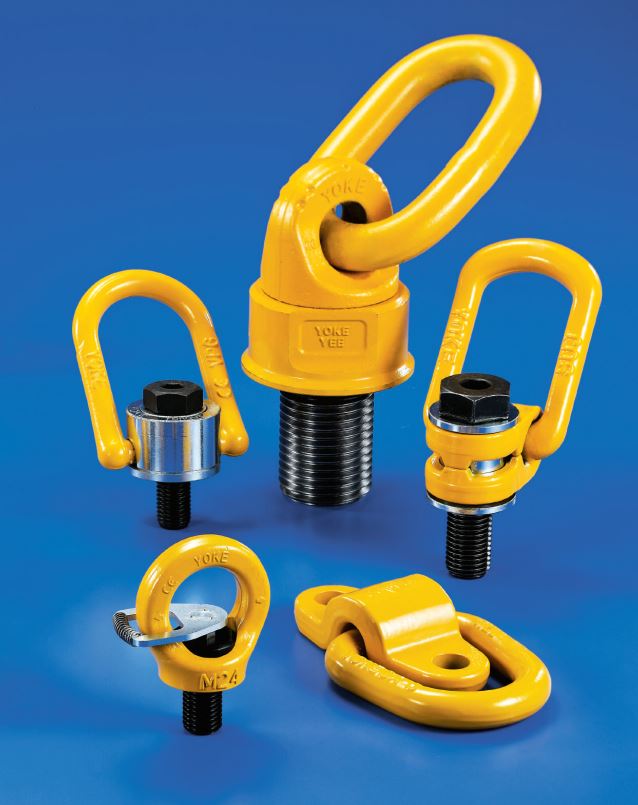 Featured Product
Swivel Eye bolts
In Stock
At Ballinphellic Engineering we are able to supply a large range of swivel eye bolts and swivel hoist rings, which are suitable for use in a wide range of different tasks. Swivel eye bolts are capable of rotating a full 360 degrees, with no risk of twisting out. They allow for loading from various angles and also provide multiple lifting positions, giving them great versatility for rotating of turning of loads. The range of swivel eye bolts and swivel hoist rings we supply vary in terms of working load limits, torque and dimensions, so why not browse through our range and find the ideal product for your needs? We only stock reputable, reliable brands, ensuring you only receive quality goods which you can depend on. Take advantage of our excellent prices and knowledgeable staff and get in touch today.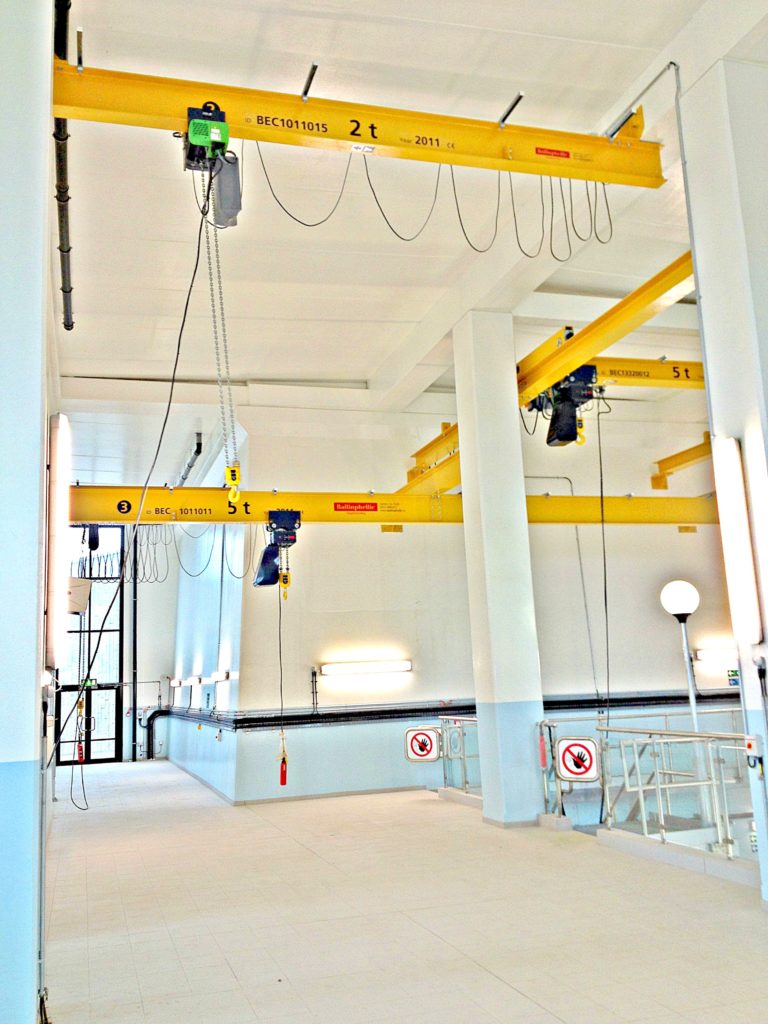 Featured Product
Custom Cranes
Ballinphellic's design team are available to make a crane to your requirements -High capacity -Any spans catered for -Low profile -Notched girder -Maximum hook height -Rotating lower beam -Run out cantilever beams -Special applications   Our design solutions are certified by on-staff professional engineers to comply with all applicable regulatory codes and established engineering standards for mechanical, electrical & structural elements. Contact us below for more information.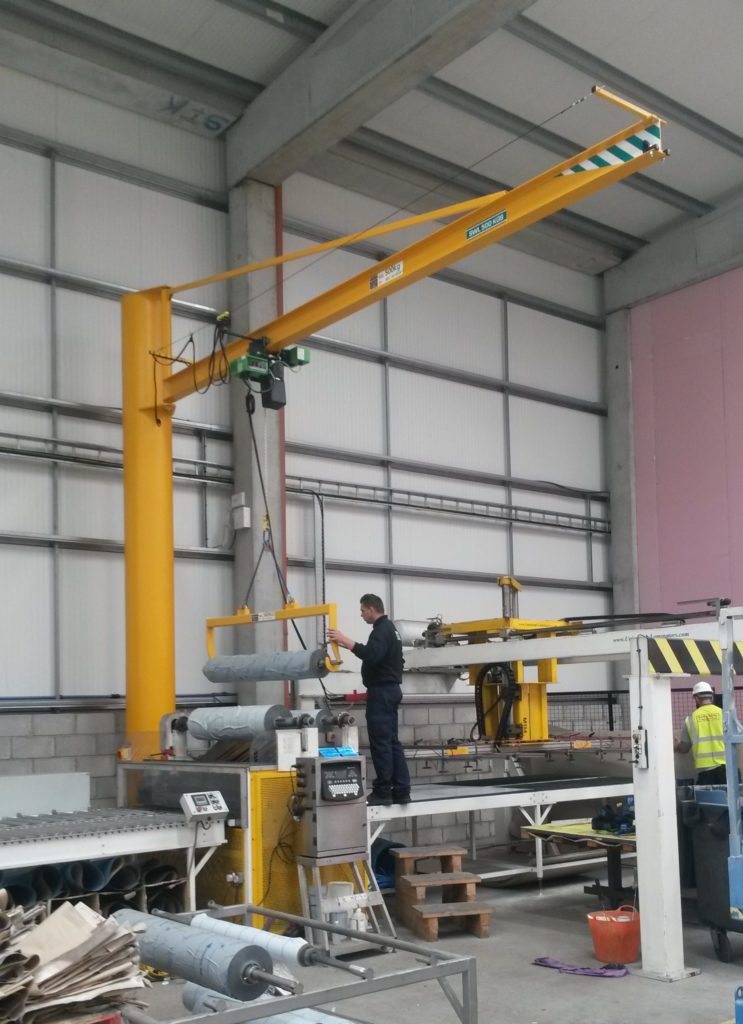 Featured Product
Jib Cranes
Providing flexible lifting and loading solutions within confined or irregular spaces, Jib Cranes can be installed as either free standing pieces of equipment or mounted to a fixed position. Capable of lifting up to five tonnes, the cranes span a significant radius to meet a variety of requirements and can be configured to work around obstructions and supporting structures if needed. At Ballinphellic Engineering Ltd, we can supply a customised Jib Crane and our experienced staff will install your lifting equipment on site and then service and maintain it as long as is needed. This is essential in meeting industry safety standards year after year, but will also ensure maximum performance and will ultimately extend the crane's life-cycle. Available with 270′ manual slew as standard or full 360′ motorised. The Jib Crane's durability and efficiency make it a familiar sight on any manufacturing work floor, while the range of manual and…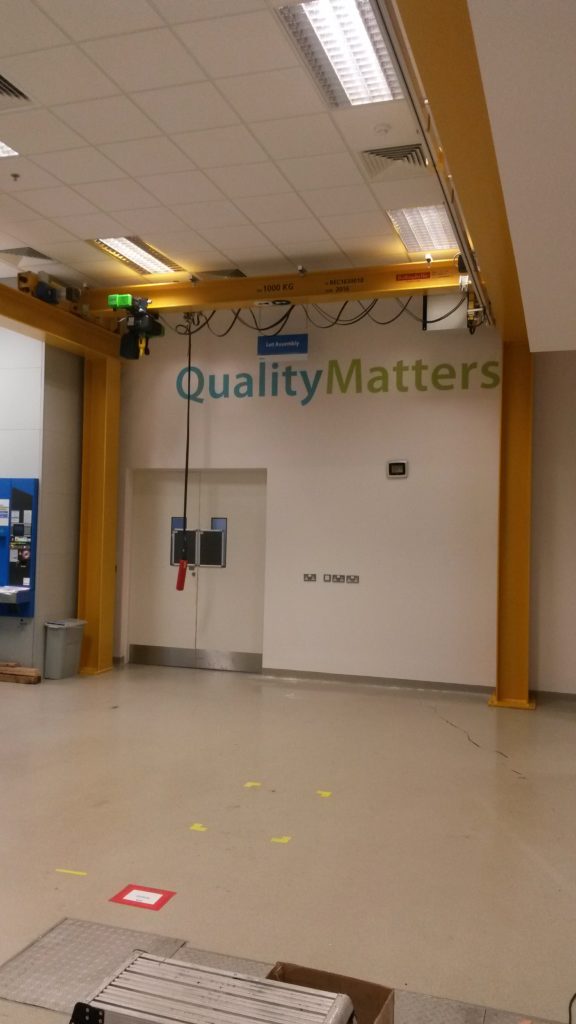 Featured Product
Overhead Travelling Cranes
Leading Irish overhead crane manufacturers We are experts in designing overhead travelling cranes to meet every lifting requirement. From standard options through to overhead cranes for heavy duty applications, Ballinphellic Engineering can customize a solution to suit any workplace and handle materials specific to any industry. Most commonly installed in the manufacturing industry, Overhead Travelling Cranes service medium-to-heavy industrial lifting requirements, and can be tailored precisely to meet the requirements of a specific project or site layout. We offer both single and double girder products, our overhead cranes can be factored into the construction of a new warehouse or workshop, or alternatively standalone rails that operate independently of the building's existing structure can be erected to support the overhead crane. We provide both top running cranes and under-slung or under-hung cranes as required. The overhead cranes have a hoist that travels along a bridge between parallel runways, and available options include customized cranes capable of lifting up to 100 tonnes at…
Previous
Next