NOVA BLACKLINE single and double girder trolley, up to 20 t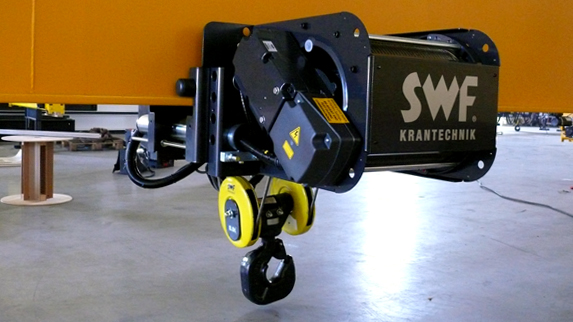 The BLACKLINE is constructed for the economic lifting of charges. It is safe, reliable and based on a proven technological design. It combines a strong hoist with an attractive price.
High quality, long life and performance are the NOVA BLACKLINE's genetic basis. It covers a wide spectrum of load handling with an ultimate load of 20 tons. The BLACKLINE is an uncompromising and robust powerhouse, reduced to the essential.
NOVA BLACKLINE – JUST POWER, SIMPLY SAFE
• Ultimate load from 2 to 20 tons and a lifting height up to 13 meters
• Optimal space and land utilization due to compact headroom and optimum hook dimension
• Minimized attrition of rope by a big drum diameter
• Robust contactor control for hoist motor and trolley motor
• Mechanical overload protection protects crane and building structure
• Plug & play – quick and easy installation and maintenance
• Overheat protection at hoist motor prevents his damage