Overhead Travelling Cranes
Leading Irish overhead crane manufacturers
We are experts in designing overhead travelling cranes to meet every lifting requirement. From standard options through to overhead cranes for heavy duty applications, Ballinphellic Engineering can customize a solution to suit any workplace and handle materials specific to any industry.
Most commonly installed in the manufacturing industry, Overhead Travelling Cranes service medium-to-heavy industrial lifting requirements, and can be tailored precisely to meet the requirements of a specific project or site layout. We offer both single and double girder products, our overhead cranes can be factored into the construction of a new warehouse or workshop, or alternatively standalone rails that operate independently of the building's existing structure can be erected to support the overhead crane. We provide both top running cranes and under-slung or under-hung cranes as required.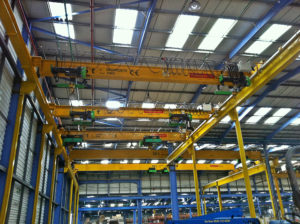 The overhead cranes have a hoist that travels along a bridge between parallel runways, and available options include customized cranes capable of lifting up to 100 tonnes at a time as well as systems specifically designed and built for use in hazardous or industrial environments.
As leading Irish Overhead Travelling Cranes manufacturers, we have the expertise to assist with the design and supply of every aspect of a new overhead travelling crane system, giving you assurance that everything from the rails and end carriages to the beams, crab and hoists will be of a highest quality.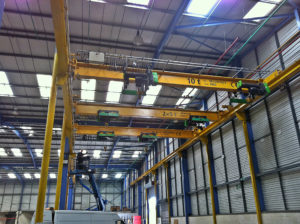 Overhead travelling crane installation
When you purchase a Ballinphellic overhead travelling crane, you also benefit from our complete project management experience. This not only covers design and manufacture, but also load testing, installation and final commissioning.
Our overhead travelling cranes can be designed with a series of optional extras, including pendants or remote control for remote operation, walkways for easy access and floodlights. Whatever the application, Ballinphellic can ensure you receive the perfect overhead crane lifting solution.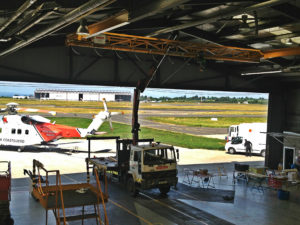 Overhead travelling crane maintenance and repair
At Ballinphellic Engineering Ltd, our Overhead Travelling Cranes are designed to last decades, and we support that performance and equipment life cycle by providing ongoing and expert maintenance and repairs service, through to servicing contracts, inspections and training. We can help ensure the correct use and continued upkeep of your overhead crane whether it was originally a Ballinphellic made product or that of another manufacturer.
Preventative Maintenance is essential for overhead crane systems to provide reliability and reduced operating costs.
Routine inspection and adjustment of operating mechanisms extend the operational life of critical components and prevents unplanned shutdowns.
Replacement or rebuilding of known life cycle components before they fail, further enhances reliability.
Ballinphellic Engineering Company develops customized preventative maintenance programs based on the duty cycle and individual characteristics of your equipment. These customized programs are designed to provide you with enhanced safety, maximum productivity and reliability of your equipment. In addition, we offer training for your operator and maintenance personnel to complement these programs.
The ultimate goal of preventative maintenance is to reduce the cost of ownership of your equipment and provide safe, reliable operation.
To receive a free overhead crane quotation or to simply discuss your lifting requirements with one of our experts, get in touch today on 021-4885-311 or email info@ballinphellic.ie