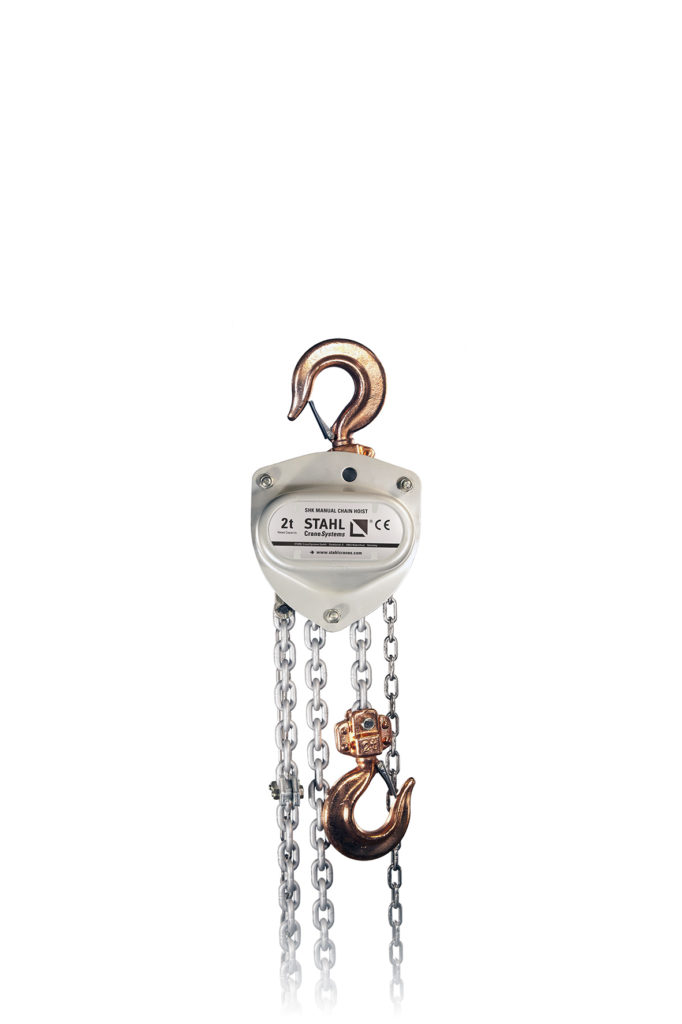 SHK-ex hand chain block
STAHL CraneSystems is recognised internationally as
an explosion protection specialist and is a world market
leader in explosion protection technology. The safety
of people and machines in areas exposed to gas and
dust explosion hazards is our top priority. Here we
make no compromises. Hoisting technology from STAHL
CraneSystems ranks among the safest technology on
the market in the petrochemical and pharmaceutical
industries, the food processing industry, power supply,
shipbuilding, offshore and natural gas liquefaction
(LNG) industries.
The SHKex manual chain hoist is based on the SHK+ manual
chain hoist. Thanks to its special features it can be used
in areas exposed to gas or dust explosion hazards,
explosion protection Zone 1, Zone 2, Zone 21 and Zone 22.
The strict ATEX directives on mechanical and electrical
explosion protection are of course met.
The Facts
Robust SHKex manual chain hoist
for the lifting capacity range from
500 kg to 20,000 kg
Based on the SHK / SHK+ manual
chain hoist
Aluminium powder coating,
RAL 9006, dry film thickness 70 μm
Stainless steel hand chain (316L)
Bronze-coated hook, brass-copperzinc
alloy (CuZn36 or CuZn39Pb2),
dry film thickness 60 μm
Suitable for Zone 1, Zone 2, Zone 21
and Zone 22
Designed in compliance with ATEX
in certified quality
All manual trolleys also available
in explosion-protected design