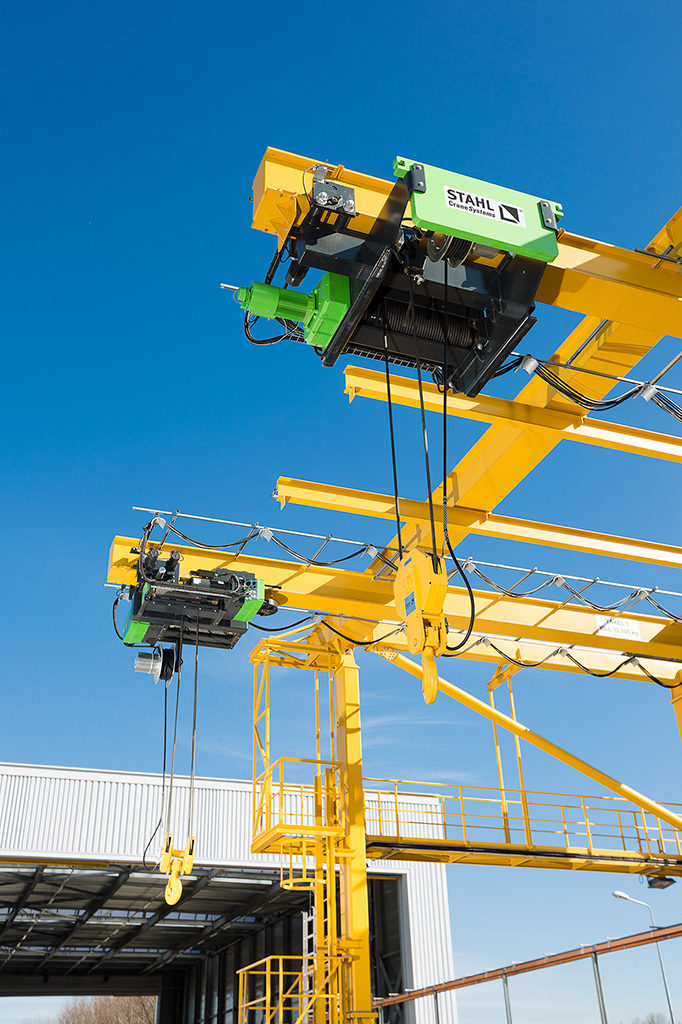 STAHL AS 7 wire rope hoist
The AS 7 wire rope hoist programme is worldwide the innovative classic in lifting and crane technology. Users, crane manufacturers and system manufacturers appreciate the modular system based on field-proven, low-maintenance components. Series manufacture of the standard components brings economic advantages for you. And this combined with the precise manufacture of off-standard components makes the AS 7 wire rope hoist a widely acknowledged top quality product. The modular system permits practically unlimited combinations of the sub-assemblies to produce your individual solutions.
The AS 7 series from STAHL Crane – Systems is available in two designs for the upper load capacity range up to 125,000 kg. The wire rope hoists can be used with crabs on double girder cranes or as stationary lifting or towing equipment with different angles of installation and rope lead-offs. The slimline construction is of particular advantage in systems manufacture. Motor, gear and rope drum are arranged in line. This central gear concept permits high outputs and loads.
These AS 7 wire rope hoists are equipped with maintenance platforms to make maintenance work safe. The ramshorn hooks of the bottom hook blocks can be electrically rotated ensuring precise handling. The revised design as twin hoist opens up the same areas of application as the AS 7 wire rope hoist, but with higher load capacity, greater lifting height and faster hoisting speed as standard. An important safety feature of the AS 7 twin wire rope hoist is the precise load positioning. As the rope of the twin hoist runs simultaneously in opposite directions, the load is raised or lowered without any sideways motion of the hook. Various off-standard designs are available for use in particular conditions. Even in explosive atmospheres you do not have to manage without the AS 7 wire rope hoist. On request, the entire wire rope hoist programme is available in explosion-protected design for Zone 1, Zone 2, Zone 21 or Zone 22. It's no coincidence that we are market leader for explosion-protected lifting technology and crane components.
Two designs for load capacities up to 125,000 kg
Innovative drive technology with cylindrical rotor motor with monodisc spring-loaded brake
Stationary model or double rail crab for systems and crane manufacture
Compact construction and low approach dimensions
Higher load capacity, hoisting speed and lifting height as twin hoist
Largely maintenance-free, low wear, long service life in acc. with FEM
Optionally available in explosionprotected design complying with ATEX and IECEx